FreeBitcoins.com is a USA company that maintains a full-serve automated altcoin exchange that allows users to exchange altcoins to Bitcoin safely and easily. Users can trade their Bitcoin to other altcoins as well. Right now, FreeBitcoins.com supports trading for 22 different cryptocurrencies. FreeBitcoins maintains wallets for 42Coin, Bitcoin, Bitcoin Cash, Bitcoins SV, Chia, Clamcoin, DASH, Digibyte, Dogecoin, Etherium, Florincoin, Gapcoin, Hive, Litecoin, Mazacoin, Namecoin, Monero, Particl, Qtum, Rhombus, Wownero, and ZCash.

Signing up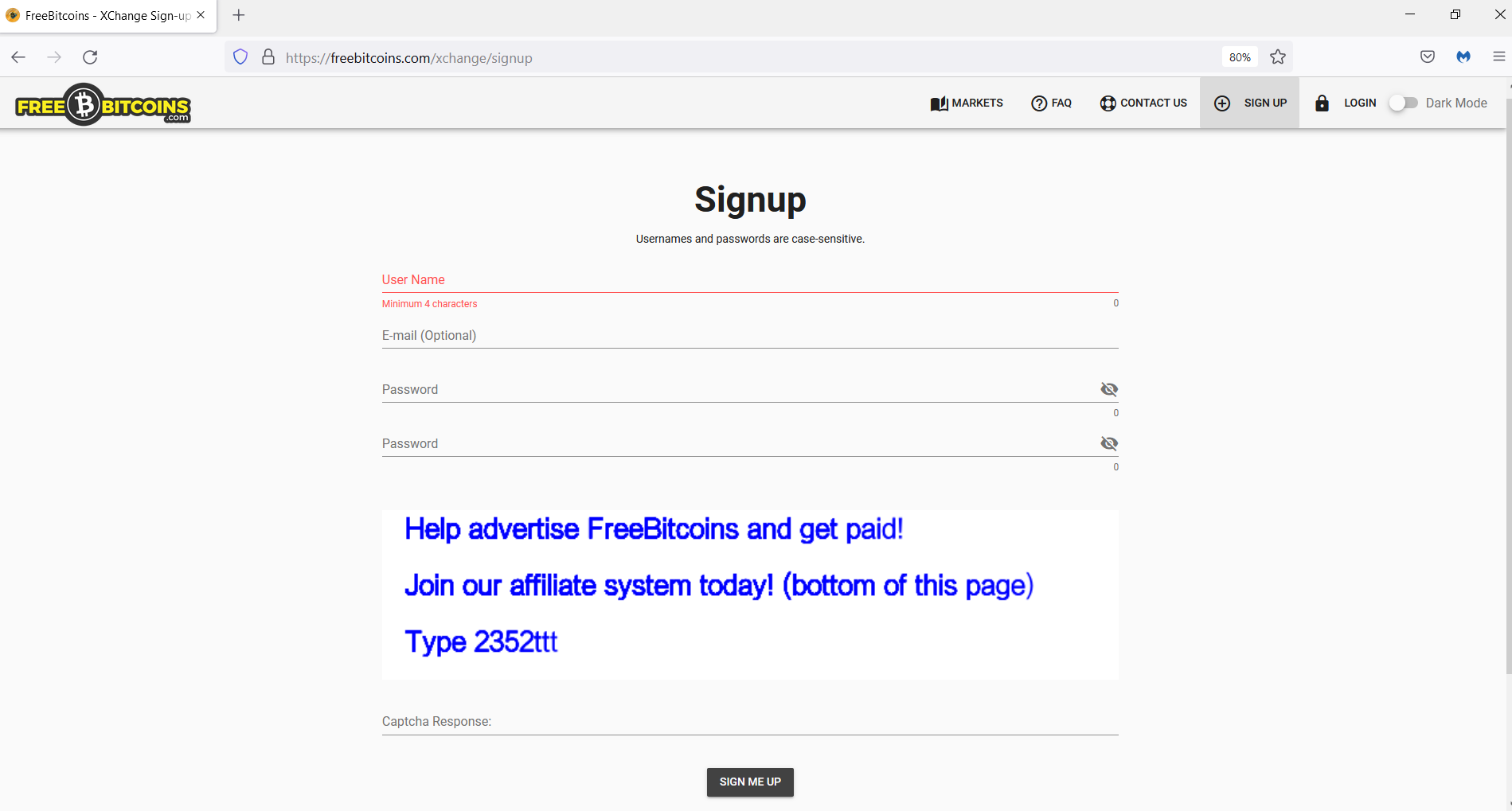 Sign up on FreeBitcoins is extremely fast and noninvasive. Because FreeBitcoins does not support fiat or anything that attempts to act like fiat, FreeBitcoins is not required to KYC customers at this time. This makes the signup process a breeze. Signing up takes around 30 seconds.

We strongly recommend attaching an email account to your account, but it is not required. You will not be able to add an email account later and you will not be able to reset/recover your password if there isn't an email account attached to your account… this is a security feature, not a flaw.

Funding Your Account

Right now, FreeBitcoins.com exchange accounts can only be funded with cryptocurrency. There are two ways to fund your new FreeBitcoins.com exchange account.

1. Use the FreeBitcoins.com free cryptocurrency faucet. Our faucet will deposit a small amount of cryptocurrency directly into your exchange account.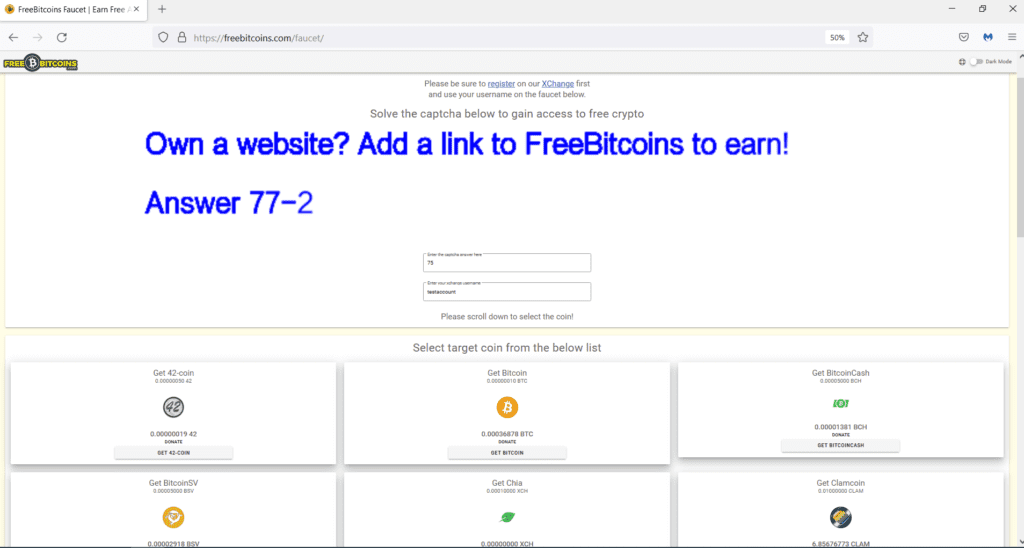 After using the faucet. Users should be able to see the free faucet deposit at the bottom of their exchange deposit page located at: https://freebitcoins.com/xchange/profile/deposit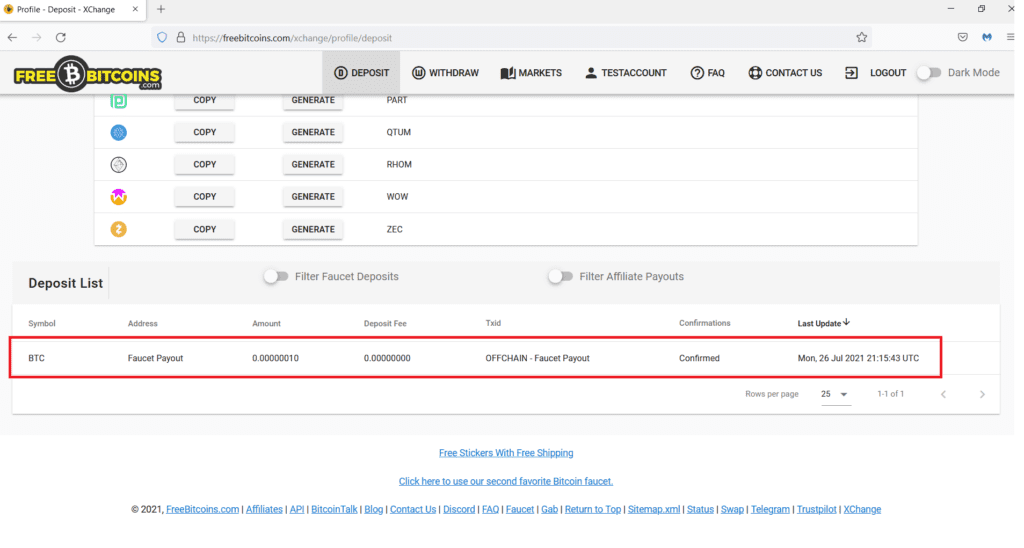 2. The second way to deposit into your FreeBitcoins exchange account is by using cryptocurrency. We support twenty-two different cryptocurrencies on our deposit page. Click "Generate" on the coin you wish to deposit, then copy and paste the address given. You will see your deposit almost immediately at the bottom of the page. You should not have to refresh the screen or anything to see your deposit or for the confirmations to confirm properly.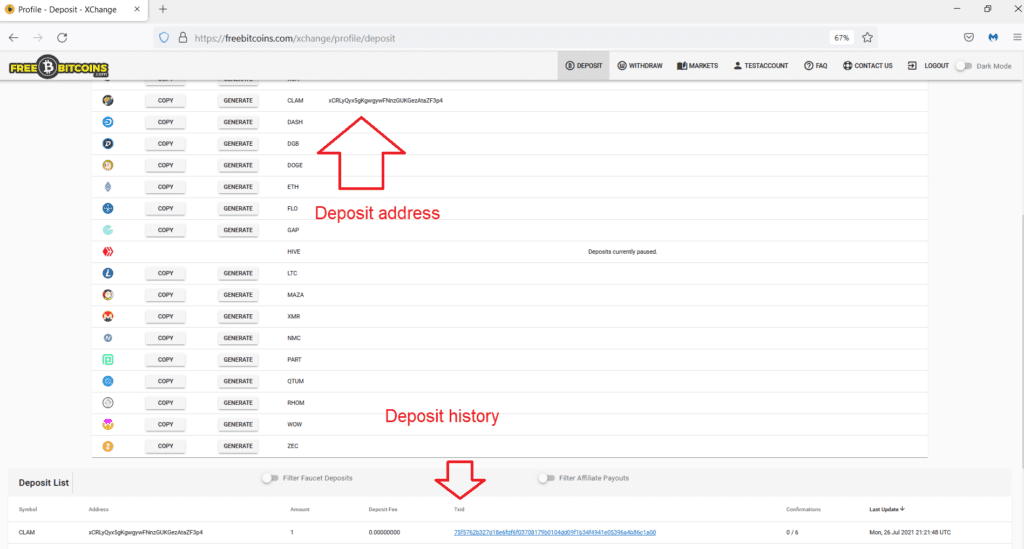 How to withdrawal from FreeBitcoins.com?

Withdrawal is arguably the most important part of any cryptocurrency trading! It doesn't matter if you earned 500 Bitcoins and some sketchy altcoin exchange won't let you withdraw your coins! FreeBitcoins.com is dedicated to the vast majority of our withdrawals being completely automated and instantly.

FreeBitcoins.com allows users to withdraw coins to any cryptocurrency address they want to. This means that FreeBitcoins users can withdraw Bitcoin to Coinbase, Gemini, CashApp, Wasabi Wallet, or any other Bitcoin service they desire and they can do it instantly.

In order to withdraw, simply navigate to the FreeBitcoins exchange withdrawal page located at: https://freebitcoins.com/xchange/profile/withdraw
Enter the number of coins you wish to withdraw, the address to wish to withdrawal to, and then your 2fa if 2fa is set on your account. Each coin has a different fee for withdrawing.

A history of your accounts withdrawals is shown at the bottom of this page as well!